ABOUT US
Thunder Struck Custom Bikes specializes in custom choppers, bobbers, baggers, pro street bikes and Harley Davidson service, repairs and performance packages.

From custom "made to order" bikes to bobbers, special detail goes into every bike. Our ability to customize sheet metal into original designs is what sets our custom bikes ahead of the competition. Designs range from custom fenders, gas tanks, frame, handlebars, and exhaust - to trick "one of a kind" personalized pieces. Creating one off parts comes naturally while building and designing custom bikes from the ground up.

Thunder Struck is a licensed manufacturer featuring custom parts such as primary drives and wheels while also offering large selection of after market parts and accessories (see our parts section). Our service department provides affordable, guaranteed customization and restoration performance upgrades for Harley Davidsons.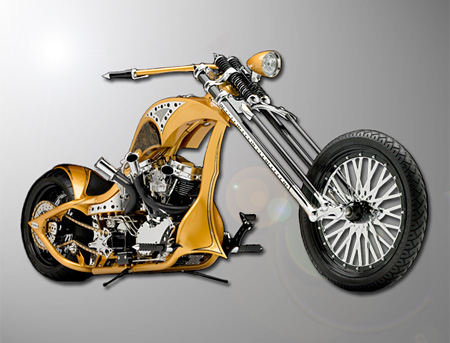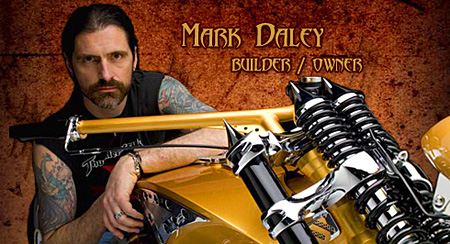 MARK DALEY
Mark Daley is the creative mind behind Thunder Struck Custom Bikes. Mark listens to his customers needs and wants, he can visualize what the bike will look like. The finished product must be flawless. The lines of the bike, from front to rear must flow, effortlessly, as if one piece. Only then is Mark satisfied with his creation. Mark's talent, hard work & honesty has made Thunder Struck Custom bikes number one in Radical - Outrageous Motorcycles.

Mark's interest in motorcycles started at age 5 in a garage wrenching on an old panhead with his dad. As a teenager, Mark restored old cars. He has the ability to turn a wrecked car into a very expensive work of art. Although Mark enjoyed restoring cars, his true passion was motorcycles. In 1995 he quit his job of 15 years and started Thunder Struck Custom Bikes. Mark never looked back; his business has grown into a thriving enterprise.
TRAVIS LINEBAUGH
Travis Linebaugh is Thunder Struck's Certified HD Tech, specializing in Harley Davison service and repair. Travis is a Rogue Valley Native, born and raised in Grants Pass.

After Graduating High School and spending some time in Alaska he went on to Motorcycle Mechanics Institute in Phoenix AZ to begin his career in Harley Davidson Service and Repair. Shortly after graduating with honors and earning his PHD certifications he started his career at a Harley Davidson dealership as a factory certified technician. During his 5 years at the dealership Travis had the opportunity to travel to Milwaukee multiple times to continue his education.

In 2004 Travis joined forces with Mark to round out the Service and Repair department. Travis has also enjoyed assisting Mark on the award winning custom bike builds, and is currently building his own custom bike.